Stay In. Stay Safe!
During this pandemic time, we are providing online consultation as well.
Best Pediatric Orthopedic Doctor in Gurgaon
Is your shoulder pain bothering?
Is your joint pain not letting you sleep at night?
Is your child walking abnormally or has started limping recently?
Are you concerned about the bone health of your baby?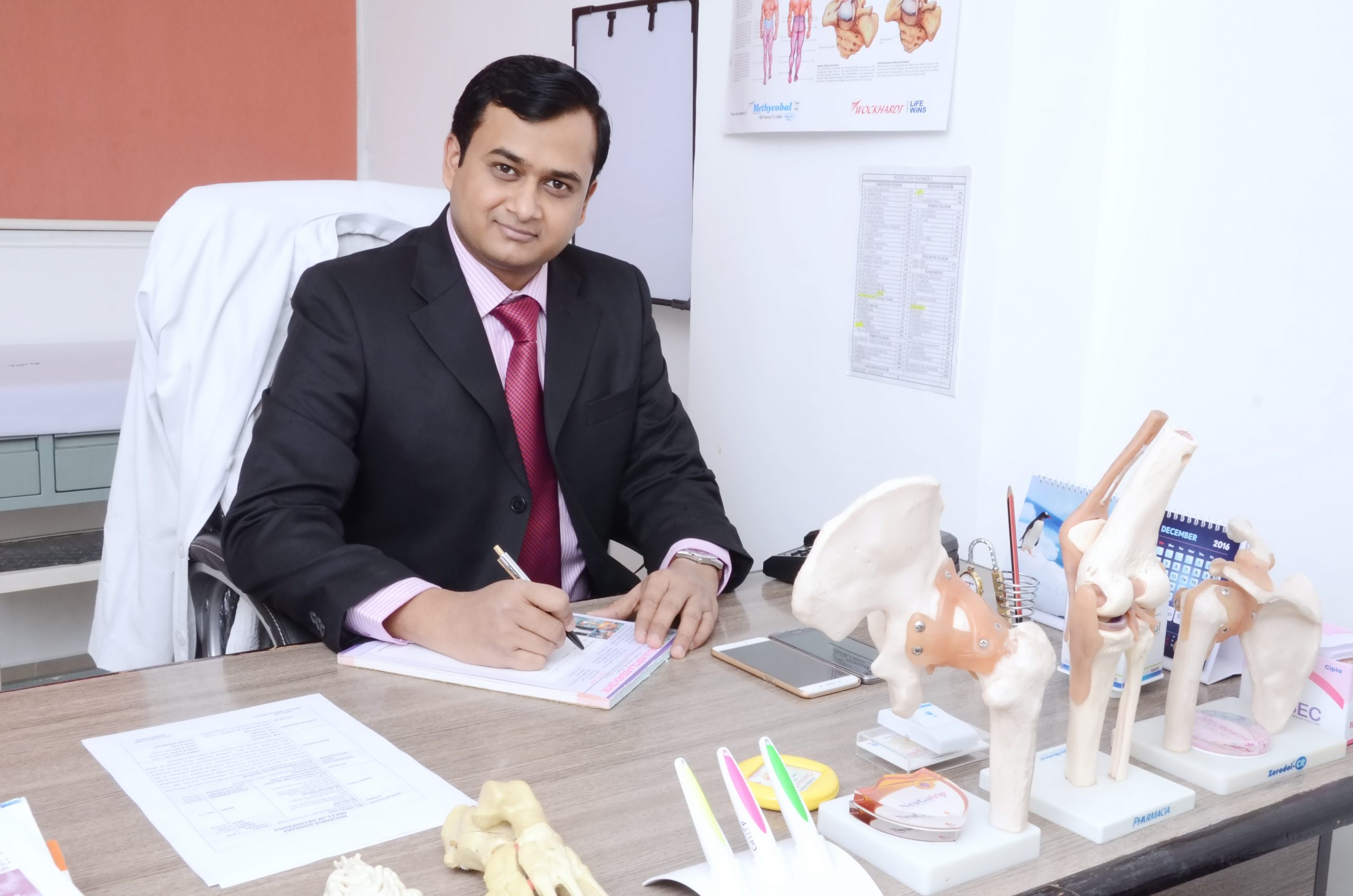 Dr. Ratnav Ratan
Qualifications: MBBS, MS, DNB Orthopedics, Fellowship in Pediatric Orthopaedics (Mumbai), Dip SICOT (Belgium)
Specialization: Pediatric Orthopedist and Sports Medicine Specialist
Experience: 13+ years​
Consult the Orthopedic Surgeon near you:
Dr. Ratnav Ratan is one of the best orthopedists in Gurgaon. He has more than 13 years of hands-on experience in pediatric orthopedics, sports medicine, and limb reconstruction surgeries. Currently, he is associated with W Pratiksha Hospital and Miracles Mediclinic Hospital and Aryan Hospital in Gurgaon as a consultant in pediatric orthopedics and sports injuries.
In pediatric orthopedics, he specializes in treating:
Radio-ulnar synostosis
Genu varum / bow legs
Genu valgum / knock knees
Torticollis
Congenital Dislocation of the Hip(CDH)
Congenital dislocation of the knee (CDK)
intoeing gait
Septic arthritis
Osteomyelitis
Erb's palsy
Vertical talus
constriction band syndrome
Scoliosis
shortening of limb
Syndactyly
polydactyly
Paediatric fractures
posteromedial bowing of tibia
paediatric bone tumours
Arthrogryposis multiplex congenita
Osteogenesis imperfecta
Radial club hand
Claw hand
Pott's spine
Legg Calve Perthe's disease
Meningomyelocele
Achondroplasia / Skeletal dysplasia
SCFE
Patela dislocation
Fibular hemimelia
Tibial hemimelia
Sprengel's shoulder
Blount's Disease
Multiple exostosis
Trigger thumb
He also does reconstruction of hip, knee, ankle, foot, torticollis release, and pediatric injuries. While treating the patient, he ensures their utmost comfort and care. Hence, he is one of the best ortho doctors in Gurgaon.
In sports medicine, his areas of expertise include:
• Cartilage Defect
• Recurrent Patellar Dislocation
•
Rotator cuff tears
• Recurrent Shoulder Dislocation
Dr. Ratnav Ratan completed his MBBS and MS in Orthopedics from Varanasi. He holds a DNB (Diplomate of National Board) in Orthopedics and a SICOT Diploma. He completed his Senior Residency from the prestigious All India Institute of Medical Sciences (AIIMS), Delhi.

Dr. Ratnav Ratan has attended hundreds of training sessions and conferences in the last decade. He is one of the best orthopedic surgeons in Gurgaon, considering his passion and dedication towards acquiring practical knowledge in orthopedics.
Watch Dr. Ratnav Ratan giving insight about Clubfoot
In this video, Dr. Ratnav, our experienced Pediatric orthopedic doctor in gurgaon, replies to queries, doubts and confusions related to clubfoot and its treatment to parents and families of children who are suffering from this disability.
Dr. Ratnav Ratan is a Specialist in Pediatric Orthopedics in Gurgaon
Many babies are born with deformities in their hands or legs. Parents find it challenging to deal with such problems. Also, when children are growing, they love to play, jump and run. These activities might sometimes lead to accidents and injuries. Dr. Ratnav is proficient in treating children having injuries with proper care.
Dr. Ratnav Ratan also specializes in guiding and counseling parents of babies born with deformities in their hands and legs and find it difficult to handle their babies in these conditions.
He is an expert in treating children with problems such as walking disability, crooked limbs, curves in the spine, joint infections, etc.
Dr. Ratnav Ratan best manages complex pediatric problems such as developmental delay, skeletal dysplasias, pediatric trauma, etc.
In Gurgaon, people consult Dr. Ratnav Ratan for a fracture or other suspected bone injury in children. He is extremely patient with children who have injured themselves while playing, running, jumping, or met with an unfortunate accident.
He is known as one of the child-friendly and best pediatric orthopedists in Gurgaon.
Stay In. Stay Safe!
During this pandemic time, we are providing online consultation as well.
For online consultation with Dr. Ratnav Ratan, give a call on +91 82795 51675
Past Experiences of Dr. Ratnav Ratan
From 2018 to 2020

Consultant Orthopedics at Aryan Hospital, Gurgaon

In 2017

Consultant Orthopedics at Medicity Hospital Rudrapur, Uttarakhand.

From 2017 to 2017

Consultant Orthopedics at Brijlal Hospital and Research Centre, Haldwani, Nainital District.

From 2011 to 2014

Senior Resident at All Indian Institute of Medical Sciences, New Delhi.

In 2011

Fellowship in Pediatric Orthopedics at Tamil Nadu Dr. M.G.R. Medical University Fellowship at Kanchi Kamakoti Child's Trust Hospital, Chennai

From 2010 to 2011

Fellowship in Pediatric Orthopedics at Children Orthopaedic Centre, under Prof. Ashok N. Johari, Mumbai
In 2009, he received the 'All India Best Resident Award' by the Bombay Orthopaedic Society at WIROC.
Contributed to writing 7 chapters in books and publications related to Orthopedics.
Has attended more than 70 conferences and Workshops.
Delhi Orthopaedic Association
AO Trauma Asia Pacific
Bombay Orthopaedic Society
Association for the Study and Application of the Method of Ilizarov (ASAMI) India
International Society for Knowledge for Surgeons on Arthroscopy and Arthroplasty
Hyperextended Knee Treatment of a Newborn Baby | Dr. Ratnav Ratan
Severe foot deformity correction of a baby | Dr. Ratnav Ratan
MCL Reconstruction | Dr. Ratnav Ratan
Crush injury leg salvaged
shamsher singh
2022-01-03
Great experience as a first timer. ...
Abhishek Gupta
2022-01-01
Dr Ratnav is an excellent, supportive and reliable Pediatric Orthopaedics. He patiently listens and discuss the best approach for the treatment. He helped us in correcting our new born unilateral club foot with utmost care and best results. He is always proactively engaged with parents about the child well-being and treatment and I would like to recommend him to other parents.
Prerna Chandak
2021-12-16
We went to Dr. Ratnav after consulting three other doctors across Delhi & Gurgaon. The way he explained us the procedure of surgery for our three year old and comforted us on the healing and recovery we were confident to have made our choice of surgeon right there. He was polite, gentle and was able to get along with our kid. I am grateful to him to make the journey from pre tests to hospitalization to recovery to post check up smooth for us. Thank you.
Dr Ratnav is a really talented doctor . My daughters elbow had dislocated and he fixed it in no time . He is really very patient and explains everything nicely. Really glad that we found him.
Dr. Ratnav Ratan is definitely the most proficient Ortho-Pediatric doctors in Gurgaon. The way he handled the surgery of our daughter right from diagnosis till post surgery visits, every interaction with him has been a pleasure. Rare to find such dedicated and technically strong professionals in their field. Would highly recommend Dr. Ratnav to all parents looking for similar Ortho problems for their kids.
I was suffering from foot drop with equinovarus deformity since childhood.Two surgeries performed by Dr ratnav ratan & his team 1.Tripple arthrodesis (Jan-2013) 2.tendon transfer(Aug -2015) After treatmentMy life has been changed ,Now I can walk without any assistance & restriction. Dr ratnav & his team done excellent job.I especially loved how dr.Ratnav really gave his time to explain my conditions with me as well as my treatment options. I may thank you for your untiring efforts in rendering treatment. I will always pray to God for good health & happiness of yours & member of your family .
Dr. Ratnav Ratan has been very kind and supportive during the entire treatment and recovery time of our child's right arm which had a Type-4 fracture and nerve injury. He has been accurate with his analysis in the case and extremely knowledgeable which is why he gave the best treatment to our child and as a result our child's arm is now absolutely fine and back to normal, which seemed like a distant dream. Absolutely recommend Dr. Ratnav sir for bone related issues as he is the best. Thank you for your timely guidance Sir. We are forever indebted to you.
I will ever be grateful to Doctor Ratnav sahab. After my child was wrongly operated outside we went to Doctor sahab who advised us to undergo hip surgery for the child. With God's grace baby's hip which was already damaged was successfully reconstructed with 3 surgeries .We are extremely thankful for whatever he has done for my child . My baby is walking and running normally now .
Dr. Ratnav is very hardworking, intelligent and compassionate doctor. He is very understanding and listens to your concerns. Thanks for helping me getting my normal life again. I highly recommend him to anyone looking for a orthopaedic specialist.
Here are some of the frequently asked questions (FAQs)
1
How to book an appointment for Dr. Ratnav Ratan?
1. To book an appointment at W Pratiksha Hospital, call on +911244131091.
2. To book an appointment at Miracles Mediclinic, call on 090690 68800 (Sec 56) or 0124 479 7600 (Sec 14).
3. To book an appointment at Aryan Hospital, call on 012428 75800.
2
Where does Dr. Ratnav practice?
Dr. Ratnav practices at:
1. W Pratiksha Hospital
Address: Golf Course Ext Rd, Sushant Lok-II, Shushant Lok 2, Sector 56, Gurugram, Haryana 122011
2. Miracles Mediclinic
Address 1: SCO- 1,2 & 3, Sector-14, Gurugram, Haryana 122001
Address 2: SCO-68-69, SECTOR 55-56, Block B, Sector 56, Gurugram, Haryana 122011
3. Aryan Hospital
Address: 78, Old Railway Road, Rattan Garden, Shivpuri Extension, Sector 7, Gurugram, Haryana 122001
3
What are the qualifications of Dr. Ratnav?
• MBBS from Institute of Medical Sciences, Banaras Hindu University, Varanasi
• MS in Orthopedics from Institute of Medical Sciences, Banaras Hindu University, Varanasi
• DNB (Orthopedics)
• Fellowship in Paediatric Orthopaedics, Mumbai
• Dip. SICOT, Belgium
4
Does Dr. Ratnav Ratan treat foot and ankle related problems?
Yes. He deals with foot and ankles problems such as bunions, ankle sprains, arthritis, and sports injury.
5
Do paediatricians  do surgery?
Paediatric surgeons frequently perform extensive surgery on disabled children in order to improve their quality of life.
6
When should I see a pediatric orthopedist?
If problems arise, children are usually referred to a paediatric orthopedist. Growing pains can often be mistaken for defects since children's bodies change so much during childhood.